Click on a question to reveal the answer.
1. How do I schedule a wake-up call?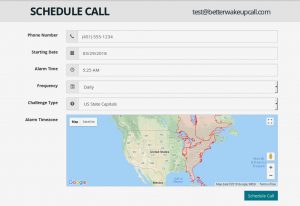 You can easily schedule your wake-up call alarm from any PC, tablet, smartphone or other mobile device. Our easy to use interface makes it simple. Once you've logged in, just press Schedule a Call. Enter the phone number you want us to call for your wake up alarm. Enter the day you want the alarm to begin. Set the alarm time, and how frequently you want to run the alarm. Click on the appropriate time zone on the Alarm Time Zone map. Sleep soundly knowing your wake up call service will get you up on time, every time.
2. How do I hit the snooze bar?
Our wake-up call alarm service makes it easy to hit snooze and go right back to sleep if you need just a few more minutes of rest. Simply don't answer the phone. Or answer immediately and hang up. We'll call you back after nine minutes. Hit snooze as often as you need. Better Wake-Up Call allows for 7 snooze call backs after our first attempt. We don't forget about you, even if you need to catch some more ZZZs.
3. How do I delete a scheduled call?
Deleting a scheduled wake-up call alarm is easy. Once you've logged in, simply click Update Schedule. Then press the Delete button under the Update column to delete each alarm.
4. Please explain your pricing.
Our service is $5.99 a month, or $59.99 for a year, after a 5 day free trial. This includes as many wake-up alarm calls as YOU need a month, with no additional hidden fees, costs or surcharges.
6. Why do you ask the "Good Morning Wake-Up Challenge"?
We designed our wake-up call service so you'll never sleep through an alarm. We ask our "Good Morning Wake-Up Challenge" so we know you're fully awake. We don't take half asleep mumbling for an answer. After you answer a simple math problem, then we know you're alert and ready to tackle the day.
7. Why do I need to give you a credit card to get a free trial?
Even though our wake-up call alarm service is free for the first 5 days, we ask for a credit card to ensure you are a real person and not a hacker's computer. It's a simple protection against fraud and misuse of the service. But don't worry, we are a free wake-up call service during the try out period.
8. How do you keep my credit card data safe?
In addition to using industry standard HTTPS secure connections to transmit important data between your device and our servers, all credit card information is stored and managed remotely using Stripe's payment infrastructure. Stripe who process billions of dollars a year in payments is security certified to PCI Service Provider Level 1, the most stringent level of certification, and is known for their focus on consistency, quality and best practices.
9. How do I cancel my account?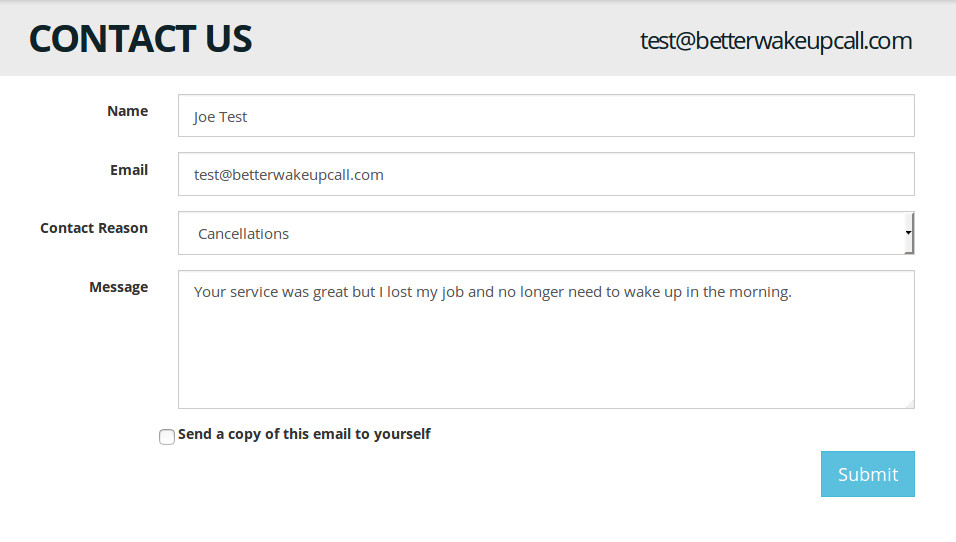 You can cancel your account at any time. Simply login to your account. Then click Contact Us, selecting "Cancellations" in the space for Contact Reason.
10. Why did you make this wake-up call alarm service?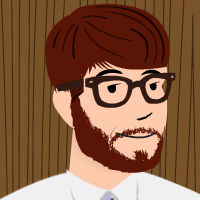 I built this site because, like you, I don't wake-up easily and have a hard time getting out of bed. Who likes to miss an important meeting over something as silly as screwing up an alarm?
I realized whenever a friend called me on those really important mornings, I was out of bed in a flash. In this digitally connected age, our brains are naturally programmed to respond to our ringing phones, never fail. Something about the importance of a phone call just gets you going in the morning.
Any how, Better Wake-Up Call was inspired more out of my own frustration than anything else. Our wake-up call alarm service is like a good friend who always has your back!